Janita Nelson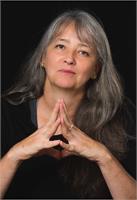 Born in South Africa grew up in Johannesburg. Spent a lot of time as a child and young adult in the bush of Botswana, camping and living with wild animals.
Studied Fine Art Majoring in Print Making at the University of the Witwatersrand then went on to study Ceramics At the University of Witwatersrand of South Africa. Worked as a Artist and have exhibited in SA and the USA. Also studied yoga in the USA have worked as a yoga teacher for the last 18 years and as a art teacher for the last 10 years.
Janita has two children Acacia and Keeta and is married to Steve Moore. Certified in Vinyasa Flow Yoga, from Asheville Yoga School in 1998 with a 200 hr Yoga Alliance Certification, and currently working on 500hr certification. She has completed workshop classes with Shiva Rae, Bryan Kest, Doug Keller, Desiree Romberg, Stephine Keach and Shala Worsly. Yin and Meditation with Sarah Power. Her specialties include:Yoga Flow, Yin Yoga. She is passionate about giving people a better understanding of yoga and the benefits of yoga practice; helping to facilitate a happier, healthier more peaceful life style.
Janita Nelson instructs the following:
A well rounded practice thoughtfully designed for both the novice and expert practitioner. Practice will delve into various Yoga traditions including Vinyasa, Hatha, Yin, Yang, Restorative and more. Expect to explore your mind and body. Those with some yoga experience and knowledge will feel more comfortable in this class.