Anne Goodstein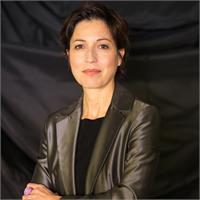 Anne has been a yoga and meditation practitioner since 2003. After moving from France, she started studying with Sabine Vera and has since been deepening her practice under the guidance of amazing teachers such as Janita Nelson, Stephanie Keach, Michael Johnson, Joe Taft, Shala Worsley. She will complete her 200-hour teacher training at Asheville Yoga Center in November 2017.
Inspired by her creative background, Anne will explore each week new themes and sequences deeply rooted into our lives. Her welcoming and uplifting classes will invite you to breath, stretch, strengthen, balance, relax, and cultivate happiness you can take back into the world. Anne is excited to take her studies deeper and share the transformative power of Yoga with our community.
Off the mat, Anne can be found at h2o creative group, where she is creative director and partner, in her studio designing and painting, or on Jekyll Island, her OM away from home.
Anne Goodstein is currently not instructing any classes.